Advanced Zero-G - Ft Lauderdale FL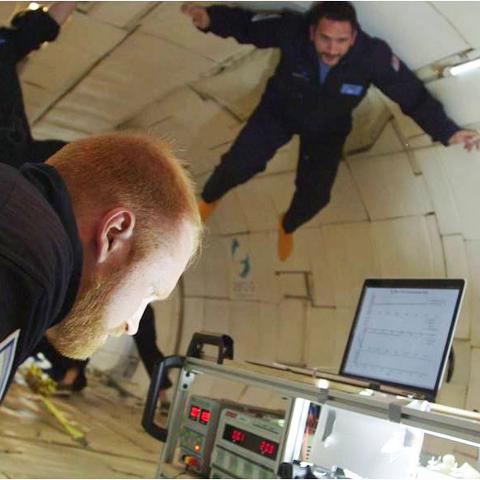 Duration: 5 Hours (approx.)
Location: Fort Lauderdale, FL
Please note: Previous experience is not required.

Overview
Advanced Zero-G allows you to attend a Zero-G Research Flight during which you will experience up to 30 parabolas – twice the weightlessness offered on a standard Zero-G Experience! Our specially modified Boeing 727 G-FORCE ONE® aircraft achieves weightlessness by flying aerobatic maneuvers called parabolas. Specially trained pilots perform these aerobatic maneuvers, which are not simulated in any way. Zero-G passengers experience true weightlessness, which makes this an ideal testing and training environment for space research and exploration.

How It Works
G-FORCE ONE flies in FAA-designated airspace blocks approximately 100 miles long and ten miles wide. The process starts with the aircraft flying level with the horizon at an altitude of 24,000 feet. The pilots then gradually increase the angle of the aircraft to about 45° relative to the horizon until reaching an altitude of 32,000 feet. During this phase, passengers feel the pull of 1.8 Gs. Next, the plane pushes over the top of the parabolic arc and the zero-gravity phase begins. For the next 20-30 seconds, everything in the plane is weightless. Finally, the plane gently pulls out of the maneuver, allowing flyers to gradually return to the floor of the aircraft. The maneuver is flown 30 times over the course of a standard research flight, each set of 15 taking about ten miles of airspace to perform. In addition to zero gravity, flyers aboard G-FORCE ONE experience Lunar gravity (one sixth your weight) and Martian gravity (one third your weight), achieved by flying a wider arc over the top of the parabola. On a typical flight, parabolas are flown in sets of three to five, with short periods of level flight between each set.
What's Included
Advanced Zero-G includes:
A parabolic flight with a maximum of 30 parabolas (a normal Zero-G Experience® flight only experiences 15 parabolas!)

Pre-flight meal

Flight suit

Zero-G Merchandise - only available with Advanced Zero-G

Photos and Videos of your experience
Minimum Requirements
Previous Experience
Since the Advanced Zero-G® includes many more parabolas than the standard Zero-G Experience®, the risk of motion discomfort is a serious concern. All Advanced Zero-G® booking requests are considered on a case-by-case basis, and preference is given to returning customers in our frequent flyer group. If you believe you have relevant experience that indicates you're at a low risk for motion discomfort, please include this information during checkout.
Age
Zero-G flyers must be at least 15 years old at the time of the flight. Zero-G has no upper age limit and has enjoyed the attendance of several passengers in their 90s.
Medical Restrictions
Micro-gravity and Hyper-gravity environments can negatively affect some medical conditions. It is advisable to consult with your physician before signing up for a flight. If you are pregnant or have heart or back problems, you should consult your physician to see if this experience is appropriate for you.